Chemetall (Pty) Ltd.
Production Site
Sales Office
5 Seller Road
1460 Boksburg East
Telephone: +27 11 914 2500
Fax: +27 11 914 4792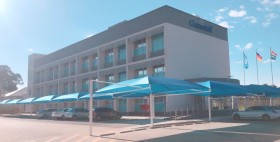 The Headquarters, manufacturing facility and Technical service/QC Laboratory of Chemetall (PTY) Ltd are situated in Boksburg East, Gauteng, South Africa. From here the distribution activities are coordinated for the supply of goods throughout RSA and to other African countries that fall under our responsibilty. About 115 employees are employed by Chemetall (PTY) Limited.
Certificates: